This week we requested and read several books about Green and Green things from the public library and our home library. We read:
Green, by Laura Vaccaro Seeger
"Green" talks about things that are... green.Various types of green. There were die cuts in the book but they weren't really noticeable (mostly because everything was green). Toddler was not impressed.
Green Eggs and Ham, by Dr. Seuss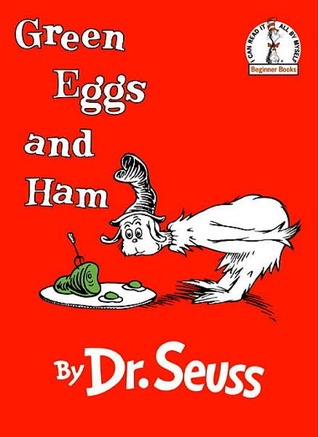 Classic. It took her a page or two to get into it, but then Jo started to try to "read" along with the rhymes and repeating phrases.
The Little Green Witch, by Barbara Barbieri McGrath
Cute version of the little red hen story. Would be cute to read again around Hallowe'en. I don't think toddler really "gets" this story yet. We'll try it again during our Red week with a typical little red hen story. I did like how this one ends, though. ;-)
Green Wilma, Frog in Space
Story of a green frog just trying to catch a fly when all the sudden it is scooped up into a space ship and the little alien that belongs in the space ship gets left behind.
Meet Mr. and Mrs. Green, by Keith Baker
Two crocodiles? alligators? and their adventures together going camping, eating pancakes, and going to the fair. It's three stories in one and we broke it up rather than read the whole thing through.
The Green Bath, by Margaret Mahy
I read through this one prior to introducing it to my toddler. It's about a boy who is disappointed when his friends get to go to the beach and he has to take a bath, but then he ends up at the beach and all over the world having adventures in a green bathtub. I got through about a page and a half with my two-and-a-half. Older kids might enjoy this one more.
Grandpa Green
This story takes you through a topiary garden in which a man has sculpted plants to tell his life story. My toddler liked looking at the pictures in this one.
Green as a Bean, Karla Kuskin
This was not an exclusively green book, but had you think about "if you were green, what would you be?" "If you were square?" "If you were bright?" It was a creative book and toddler enjoyed hearing it. I would like to revisit this one in a year or two and do some creative activities and play around some of the ideas it talks about.
Go Away, Big Green Monster!, by Ed Emberly
This is a great book for a green unit! ... if you get a full book, that is. We heard this book at a story time at Hallowe'en last year and I thought it would be great for our green week. Unfortunately, the book we received through inter-library loan was missing at least half of it's pages, which really ruins the book because of the die cuts -- the purple hair wasn't purple, and we never ever saw the big green monster. It was very disappointing, because my toddler was really excited for this one just based on the cover. So, if you can get a copy with all the pages, I highly recommend it. (There's also
Nighty Night, Little Green Monster
by the same author, same die cut concept, also very cute and would be perfect also.)
Did we miss any great books about the color green?